Walk around the Khai Islands and sunbathing in the white sand, under the bright sun
14/10/2019
When vacationing in Thailand, make sure Phuket is one of the destinations you will visit and add Khai Island to your bucket list. By joining the Khai Islands Phuket tour, you will be taken away from the city, and feel the comfort of Yacht hire Phuket to go to three amazingly beautiful islands, Khai Nok, Khai Nai and Khai Nui.
Easy and hassle-free vacation with Voyage Yacht Sourcing
Khai Islands is one of the tourist attractions in Phuket that should not be missed when visiting Thailand. To go to this island if you plan on a solo tour it will certainly be very troublesome, the article you need to switch transportation, therefore Voyage Yacht Sourcing is ready to help you to be able to enjoy traveling around this place without hassle.
Fun things to do on Khai Island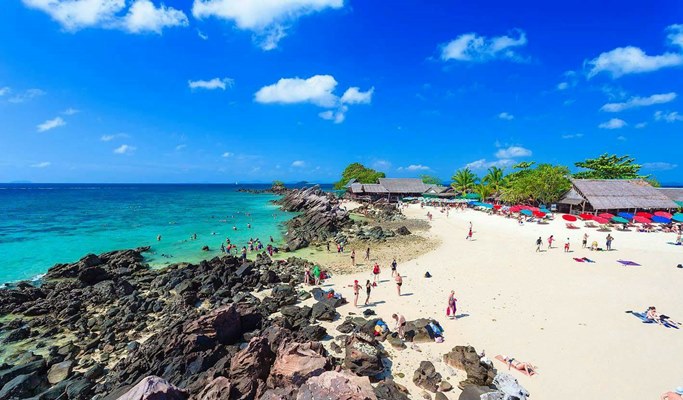 Khai Island is an island that is quite far from the road and is uninhabited, this small island has a beautiful coral reef suitable for snorkeling and seeing colorful fish. The place is suitable for you who want a tourist spot full of peace and tranquility, this island also has beaches on both sides of the island.
1) Take a walk in Khai Nui
Koh Khai Nui is separated from its twin islands several hundred meters, and this island has a very small size. Khai Nui only measures 200 x 30 meters. This island can be surrounded in just 10 minutes. When you get there in the morning, the people are already sunbathing and playing in the water.
2) Relax at Khai Nok
Koh Khai Nok is the largest of the two islands and offers a beach with several souvenir shops and small bars. Don't miss to swim among the thousands of brightly colored tropical fish that will approach when you throw pieces of bread. Khai Nok is a small triangle island the size of a large soccer field consisting of rocky headlands and beaches with snow-white sand. One characteristic of Koh Khai Nok is it has at least twelve species of exotic tropical fish and they are not afraid of humans.
3) Snorkeling and lunch at Khai Nai
Khai Nai Island is one of the 3 islands of Khai which is famous for its beautiful beaches. Koh Khai Nai, doesn't really have a large beach or any facilities but this island is great for snorkeling spots. Khai Nai is an ideal location for visitors who want to enjoy snorkeling, feed colorful fish, or enjoy swimming in warm water. The water on this beach is very clear and white sand beaches complete the beauty of this beach. Diving or snorkeling, swimming or sunbathing on the edge of the beach is the perfect combination to relax on this island. Colorful fish that swim towards people who carry fish food is also an extraordinary experience.